STUDIO 614
Studio 614 is a Columbus Ohio's art studio & a mid-century modern private event space for your next party.
We want you to experience the artistic inspiration that we recognize within our city, every day. Studio 614 is Columbus, Ohio's premier art studio with a consistently updated calendar of art classes variously structured for beginners & advanced students. No experience is necessary to register for a beginner's class. Aside from our location at 2487 Summit Street in Clintonville, we also travel to you! We'll host classes at local restaurants, bars, breweries, and even in your own backyard. We host private parties for any special occasion such as weddings, bachelorette events, corporate gatherings, kids parties, or just simply for fun with friends! These events can be held almost anywhere- from a park or restaurant to your own living room or garage. Just call us for a list of options, if you are booking a private party. We even host Pinterest Parties so you can create those crafty pins that have been collecting dust on your boards for years! We strive to deliver a variety of activities so that families, friends, and lovers may enjoy a remedial change of pace… and did we mention that we love Columbus?
Vote for us for #BESTOFCOLUMBUS "Kids Birthday Parties"! Voting ends 4/18.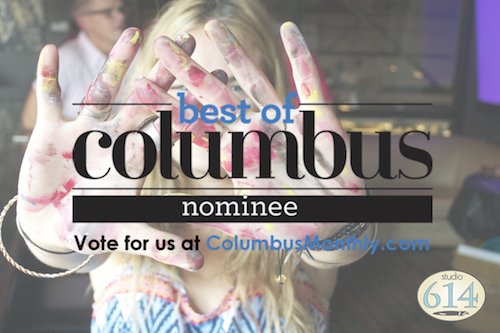 Paint & Sip: "Pop Art" These hip pop art painti...

Paint & Sip: "Tree Painting"  Create a pricele...

Paint & Sip: "The Great Wave" The Great Wave is...

Paint & Sip: "Brutus" Make Brutus Buckeye even...

Paint & Sip: "Columbus Skyline" Make the Columb...

Paint Your Pet in Columbus Do you have the fancie...

Paint & Sip: "Goodale Park" Bring a date or boo...

Paint & Sip: "Sunset Wave" Bring a date or book...

Paint & Sip: "LeBron" Cleveland Cavs fans rejoi...

Paint & Sip: "Brutus" An Ohio State Alumni favo...

Kids Painting Parties in Columbus Need a new party ...