We're all a bit nervous about virtual learning this fall… especially our work-from-home parents. I hope this DIY home schooling set-up is encouraging and helpful to all of our viewers on Good Day Columbus!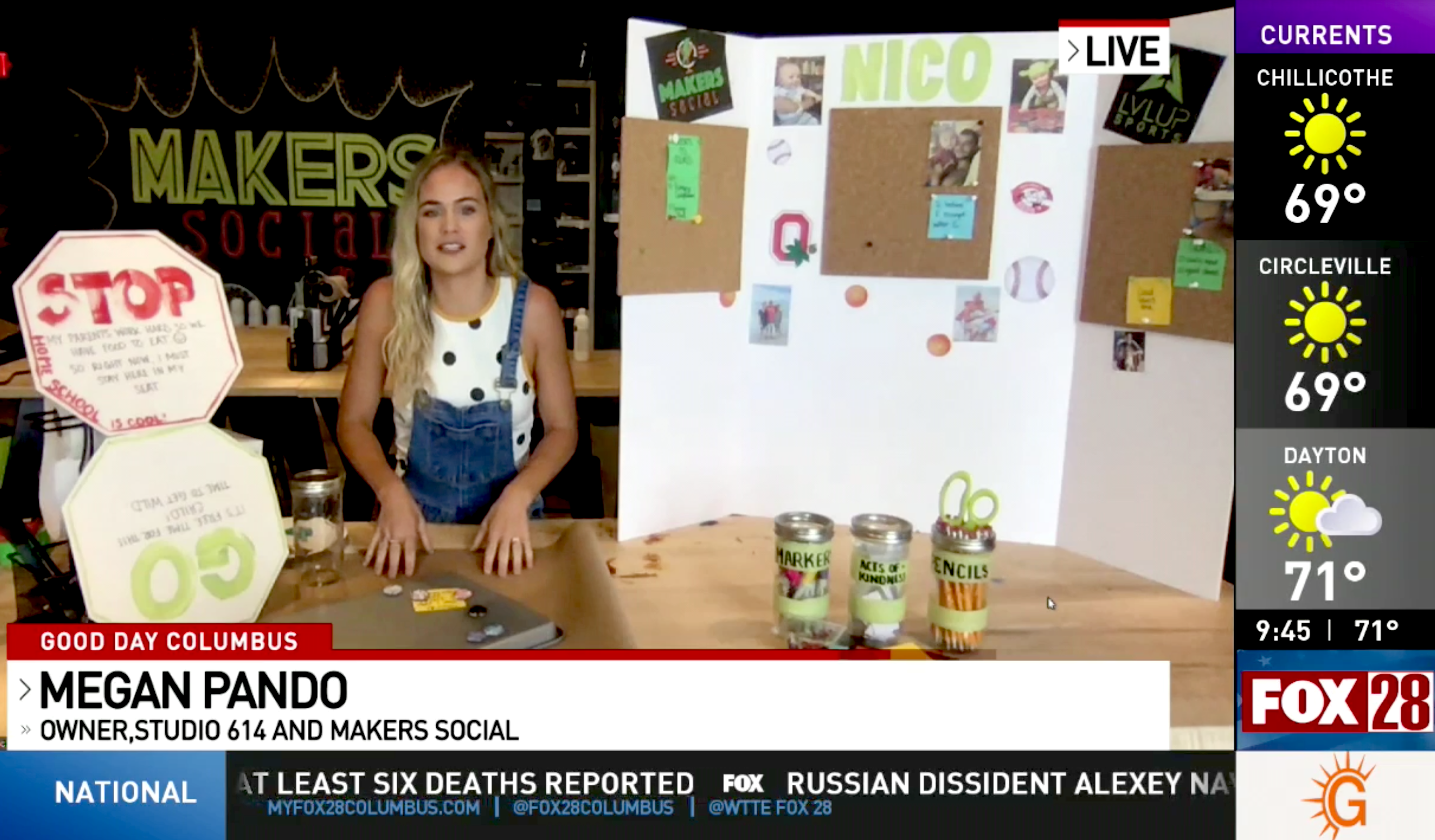 This "Portable cubicle" project is perfect for kids working at the kitchen table this year. Not everyone has the luxury of a finished basement or extra desks for the kids to use.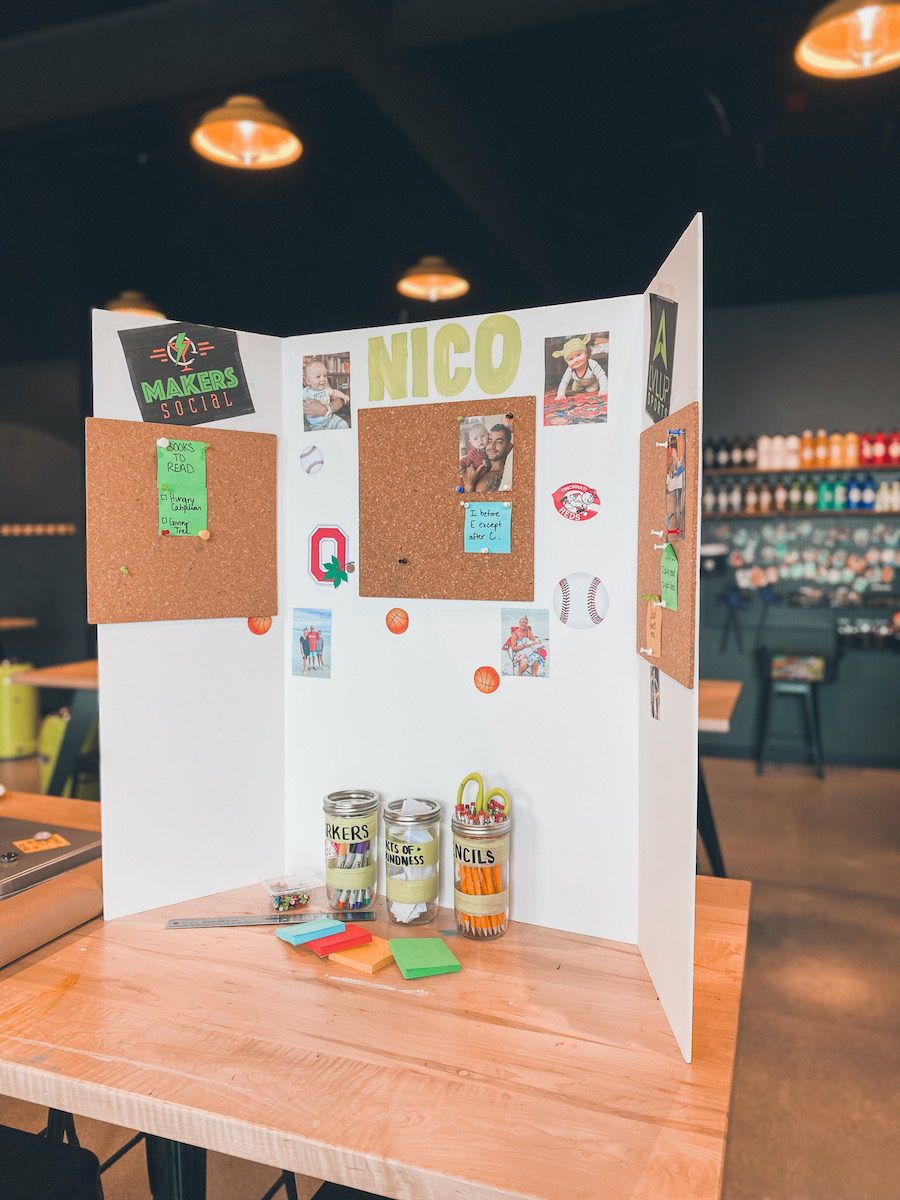 If your kitchen table has to double as a classroom this fall, this portable cubicle is a perfect way to transform the kitchen to a classroom with EASY CLEAN-UP once the school day is over!
Have the kids decorate their own super durable tri-fold foam board with these fun cork squares as 14″x14″ mini-bulletin boards along with printed out photos and accessories! Each kid's uniquely decorated cubicle will be both inspiring and fun for them to remain seated and focused at their work station. It even ads extra privacy if you have multiple kids working at the same table!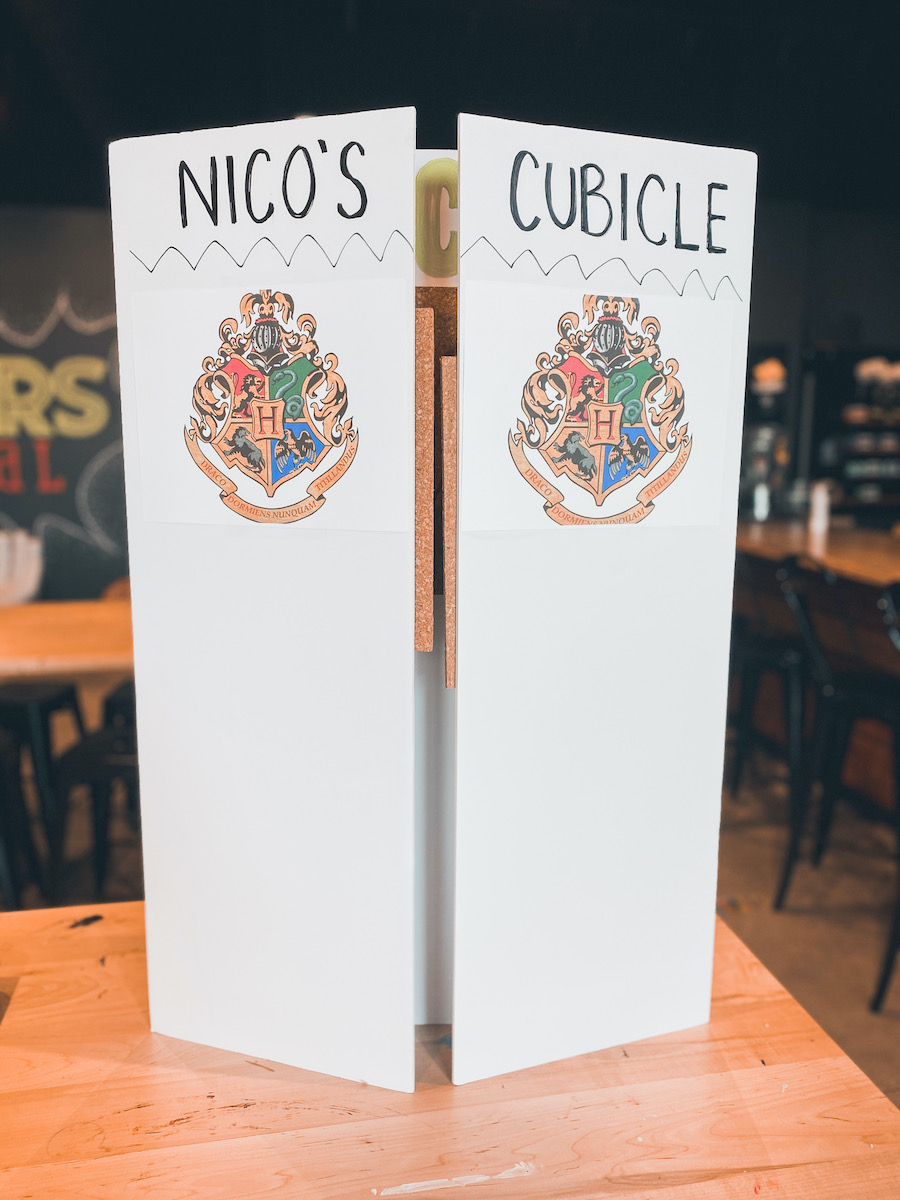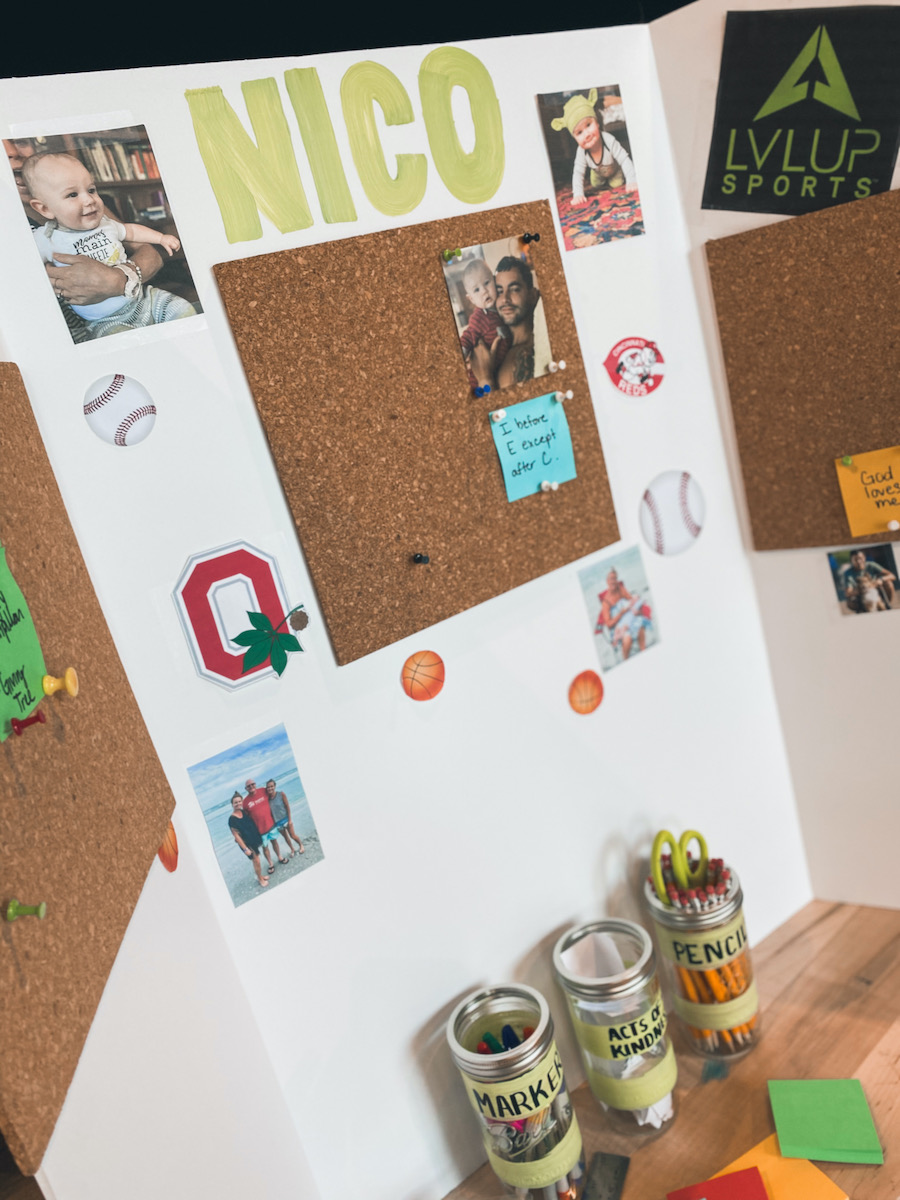 Per usual, I ALWAYS recommend decorating fun mason jars to use in organizing school supplies.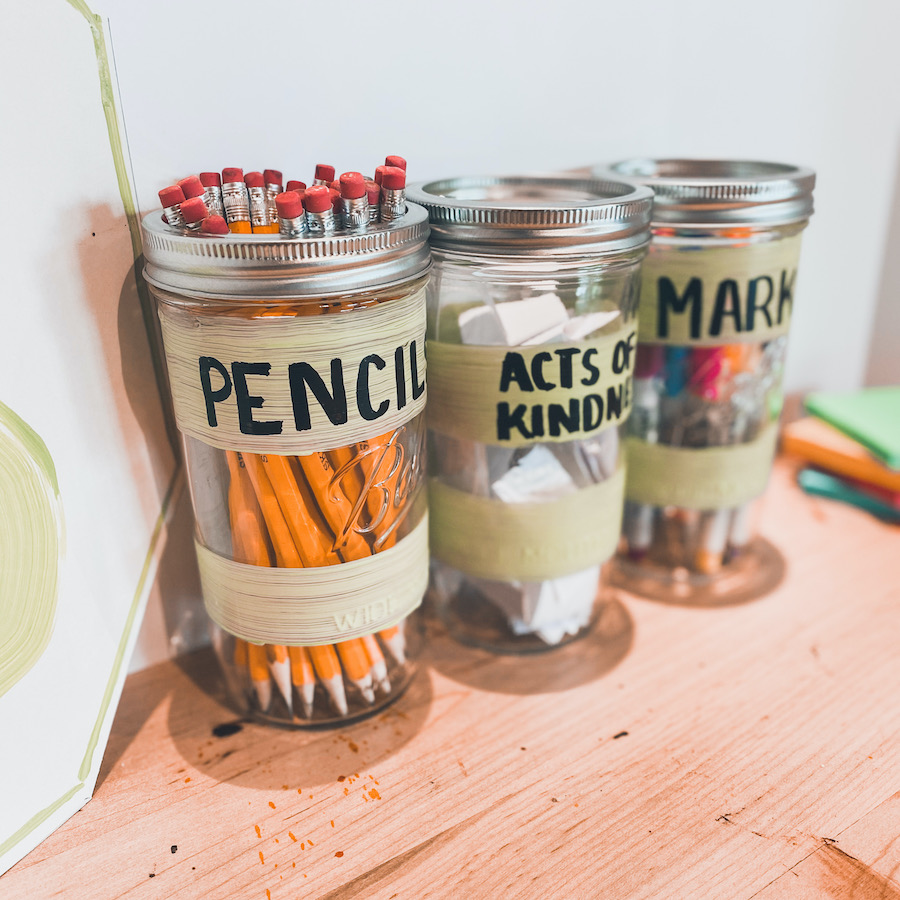 These (3) 16oz wide-mouth mason jars are perfect for markers, pencils, erasers, paper clips, etc! These are also easily moved from table to table. If you use acrylic paint to decorate them or paint stripes like you see pictured here, you can use sharpie markers to label what goes in each jar. Even add a "good deeds" jar with a few chores and neighborly deeds the kids can pull from each day!
If you're working from home and need the kids to stay seated during your important Zoom calls, this Stop & Go sign is the perfect way to enforce their self-discipline while ensuring your un-interrupted work day!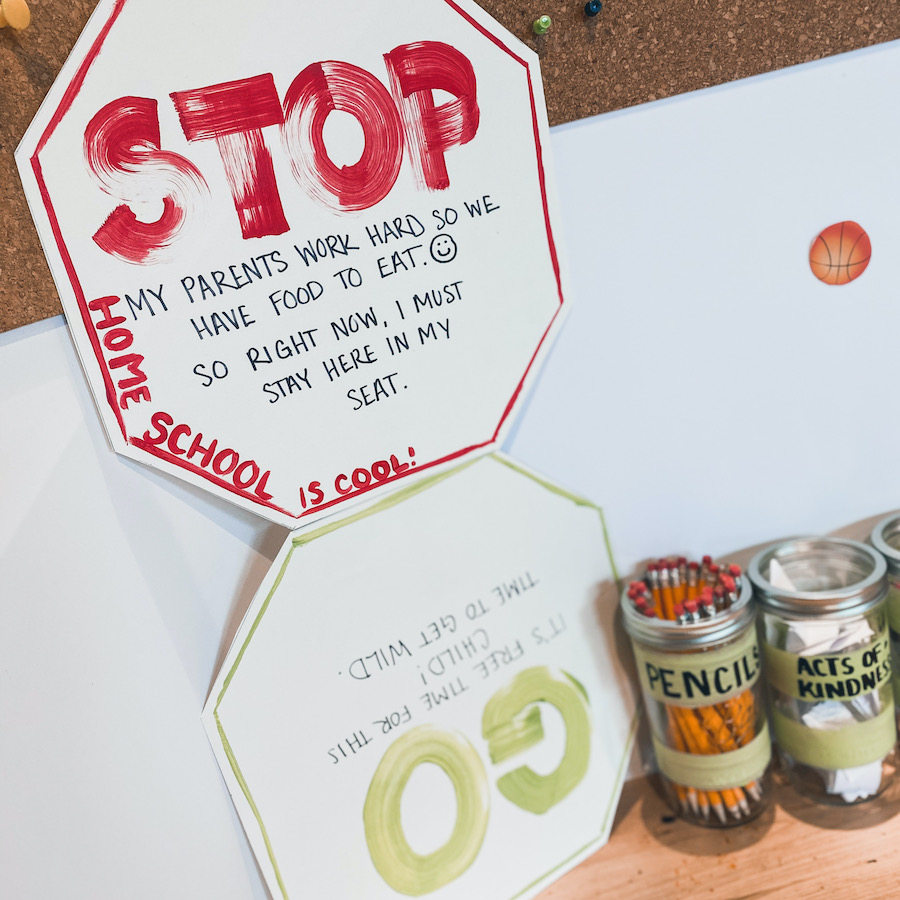 Whether you use rewards or punishments (or both!), make sure your kids know that this sign is SERIOUS BUSINESS! If the STOP sign is upright, the kids cannot leave their seats unless visiting the restroom. Cut out 2 poster board stop signs, and decorate them as shown. Then, tape each of them to 1 popsicle stick (with one being upside down). Add a magnet to the back on the popsicle stick if you want it to be displayed on the fridge!
One side says "STOP: My parents work hard so we have food to eat, so right now I must stay here in my seat". The other side says "GO: It's free time for this child. Time to get wild!"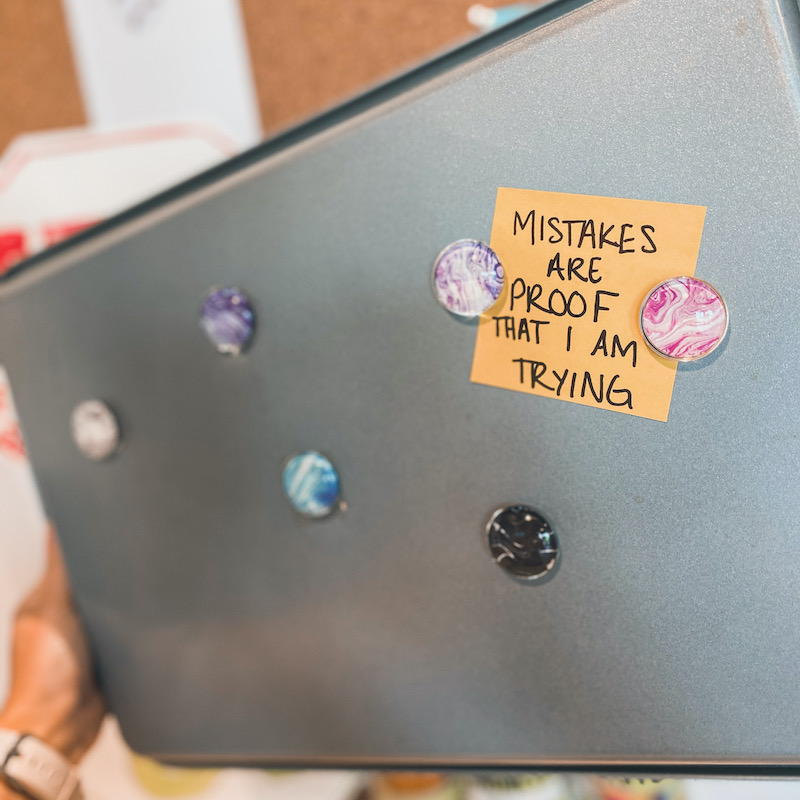 If you want to display this magnet near their desks, you can even use an old baking pan as a magnet board! Most of them are magnetic and have holes on either side where the handles are. This will allow you to drill them directly into the wall for a sturdy, nifty magnet board they can decorate as well!
Good luck this school year, parents and teachers! You'll do great.
Yours creatively,
Megan Pando