Photo Transfers on Wood
…and other surfaces that didn't exactly go as planned.
Alrighty, this week on Art Audit I'm tackling the DIY Photo Transfer. We tried multiple surfaces; ceramic plates, canvas, cardboard, and wood. Wood not only cooperated with me the best but also gave off a rustic, aged look.
This DIY craft is ideal for basically anything and anyone. For example, a photo of my brother and his fiancé for a wedding gift would be more original than a crockpot. Don't be the crockpot person.
Time: +drying, 30ish minutes
Supplies:
1 piece of wood (I used one in the shape of Ohio)
Photo(s) printed onto photo paper
Gesso (around $5 at Michael's)
A paintbrush
Ruler
Step 1. Photo
Determine what photo you want to use! I used a photo of the 'Shoe I took during football season, which seemed appropriate for my wood shaped Ohio. Print the photo using photo paper; this is important because the ink will transfer better.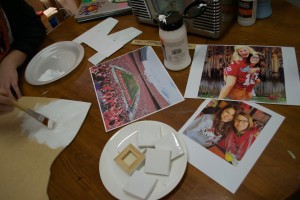 Step 2. Gesso
Using a paint brush, paint the entirety of your wood with gesso. You want to do this so your wood piece is all the same shade.
I painted my wood and let it sit for 5 minutes and then painted another coat of gesso on it.
Step 3. Apply Photo
After your second coat, immediately lay your photo, ink side down, on to the wood where you want it to appear. Once you've laid it down, press the photo down with your hands and use a ruler to smooth out any air bubbles.
Step 4. Patience
After you've applied your photo, let the photo transfer sit for 20-ish minutes. Once you're confident that the gesso has dried, (you can test this by feeling the outsides), remove your photo SLOWLY.
Post photo peel: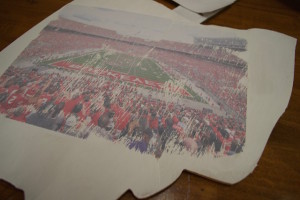 You can add a gloss coat on top once it's dried to give the wood a smoother look!
My mothers face and the canvas didn't have as much luck…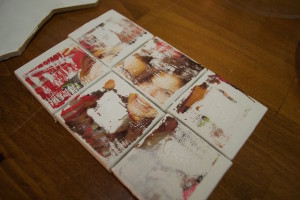 Things to remember:
Use photo paper!
Wait patiently for the gesso to dry.
If you're using words be sure to flip them before they're printed so they don't show up backwards.