Hope you can make it to our birthday party!
Nov 18th @ 7pm
2 4 8 7  S u m m i t  S t r e e tJoin us for a night of appetizers, cocktails, glow-in-the-dark painting, great music, and dancing.
Cheers to 3 Years
Studio 614 has come a long way in three short years. What started out in a 5'x5' storage locker before transitioning into our first real space at 400 W. Rich has quickly culminated in a studio on Summit Street that we can call our own.
One of my most grateful memories of this journey comes from the old Rich Street studio. I was cleaning the floor after cutting Ohio shapes out of wood with the little jigsaw my dad bought me for my 24th birthday. In that moment, I took a photo of the mess – the sawdust, scrap wood and typical art studio clutter – and flashed back to when I was a child. The highlight of my weekend was sweeping the sawdust up from the garage floor after my dad built beautiful furniture out of scary machines. I loved this mundane, dusty job for two reasons. First, it meant I could ask my dad endless questions while I swept, and there was nothing he didn't know. Second, it felt good to help. Helping him, even in this small way, meant I contributed to his woodworking hobby. When he finished a project, it felt like I did too. Those conversations and lessons have stuck with me – and now with Studio 614, I'm in the middle of my biggest project yet, with paint on my hands and still sweeping the floor.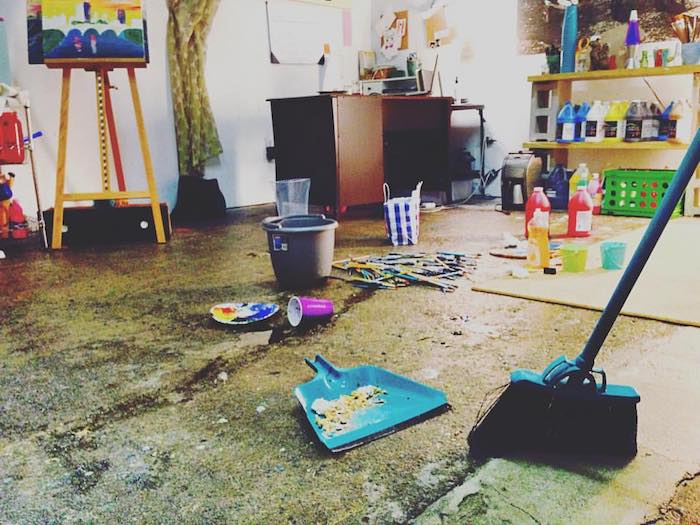 We've made big strides in the past few months. I brought on my first full-time Events Marketing Manager, Kelsi, to help with the steady growth. She has a knack for sparking creativity within our guests, and her passion for knitting, marketing, and collaborating has completed our team. We've grown to a team of six artists, whose positivity and creativity blows me away every day. We've built an even deeper attachment with our quirky little neighborhood.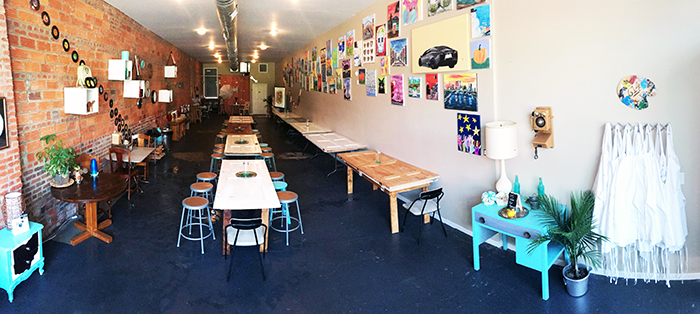 But none of this would have been possible without our family and friends and guests. Without you. So, thank you.Thank you Dad for letting me help with your projects in the garage. Thank you to the person who left that broken hot pink door on 400 W. Rich Street's "give something, take something" shelves. Because of you, our Summit Street studio is full of re-purposed door tables and is a steady reminder of an earlier part of our journey. Thank you to the guest who visited and then told their whole family to come in for a class. Thank you to the private event planners who let us play a part in birthdays and wedding festivities. Thank you to the visitors who were celebrating and the visitors who were mourning, and everyone in between. Thank you to the most generous, inspiring staff. Thank you to this city. Without you, there would be no us, and because of you, we're inspired to keep creating and celebrating.
We can't wait to see what's next, and we hope you'll stick around for the ride. Now let's party!
Meg