Let's get a throwback to this time last year when we met our favorite Columbus moms, Mona & Valerie from the well-known blog "Social Moms Around Columbus". These ladies are full of smiles and excitement! They arrived at the painting class downtown at The Social Room, ready to paint Brutus & The Shoe.
Thankfully, they let the whole city know about their wonderful experience with us, and we are SO thankful!!! Honest, genuine word-of-mouth is the best, and we're so grateful for all of our blogging supporters. It's a lot of work to maintain a blog, so we highly respect the local bloggers who have such a passion and love for the growth and positive change within our city of Columbus.
Here's a few snippets from their post last December:
Over the past few years, there has been a variety of "wine and paint" events around town at various locations around Columbus.  Most of what I have seen are flower paintings…not very exciting in my book! Don't worry, Studio 614 promises to end the doldrums of boring flower paintings as they offer paintings of a variety of sights around Columbus AND offer other art classes!  Some of their classes include "Columbus Skyline painting," "Short North painting" and currently they are offering "Infinity Scarf" classes!  They are a traveling art studio, so you can book them for private parties, sign up for their classes around town, and they offer kids parties too!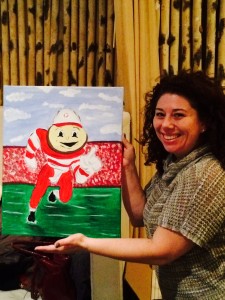 I only had one drink that evening because I was so focused on not messing up my painting.  We all had a few laughs along the way about how good/bad artists we were too.  Toward the end as I was walking around to see other people's paintings,  I noticed that no two paintings were alike.  Some had more or less colors, less or more details, etc.  In the end, you realized that everyone had really created their own piece of art!
Read the whole post here: http://smacolumbus.com/studio-614-ohio-pride-painting-class/
Thanks for a great time Mona & Valerie! See you again soon!