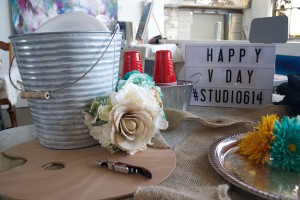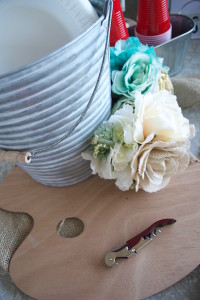 Hey Love birds! It's Megan here.
We had a wonderful afternoon of cute Valentine's Day dates for our Short North Arches Painting Class at 400 West Rich
We had 30 people signed up for this class, and I was lucky enough to promote this class on Sunday morning on Good Day Columbus! My 5 minute segment on the Valentine's Day Class went very well, and I even quoted Bob Ross!
Here at Studio 614, the aesthetics of the party is pretty high up on our priority list. As you already know via the Art Audit by this semester's intern, Maggie, WE LOVE PINTEREST… and we also have an eye for these types of party decorations. When you partner light blues and beiges with burlap and rustic, tin containers… you just can't go wrong.
Because hosting parties is both an art, and an extreme sport… I am absolutely exhausted.
This Valentine's Day party was the last of 7 parties in only 5 days. Running around, setting up chairs and tables, creating playlists, and touching-up paintings! And now I'm sitting here at Mission Coffee on a snowy Monday, reflecting on how much worth there is in each smile that left those parties happy.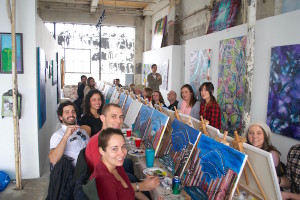 Artists Liz Hensley and Maria Matyac taught the Valentine's Day class, and they provided such a nice, relaxing atmosphere for all the guests. Maria took some amazing candid shots of the class, and adorable couple pictures of everyone holding their paintings! Her skills as a photographer and painter are just incredible! You can see evidence of Liz's painting talents and teaching techniques in each and every one of these paintings. To see the full gallery of images from this class, check out the Facebook photo album.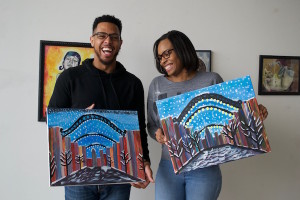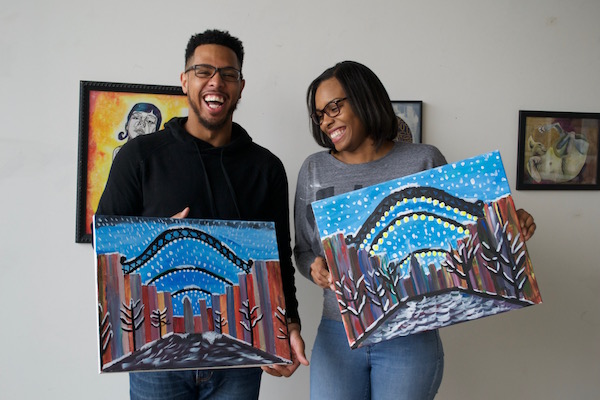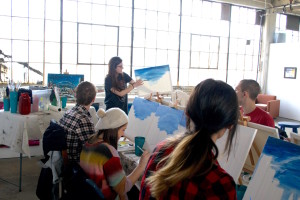 Now, we're taking a full 2 days off with no classes to re-charge for next time. Hope everyone had a wonderful Valentine's Day! STAY BLESSED.
*dabs*
-Meg