In case you missed it, Studio 614 owner Megan Sharbaugh was featured in a 5 minute crafting segment with lds youth dating ideas on FOX!
Good Day Columbus asked us to show their fans how to repurpose those precious holiday cards we all receive every year.  Watch Megan show how to make three cute and thoughtful DIY holiday card projects with Marshall and Courtney.
Link to video on their website: http://myfox28columbus.com/good-day-columbus/gdc-turning-holiday-cards-into-diy-crafts-12-29-2015
Project One: Holiday Card Clothes Pin Wreath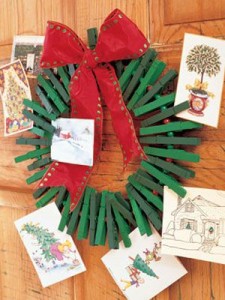 Materials Needed: Clothes pins, wire coat hanger, decorative beads, ribbon
Instructions: Bend your wire hanger into a circle.  Clip your clothing pins and slide a decorative bead in between each pin.  Once you've completed the circle, add a ribbon or any type of decoration to the top.  Clip your holiday cards to the clothing pins for a colorful decoration you can leave up year round!
Project Two: Holiday Card Ornaments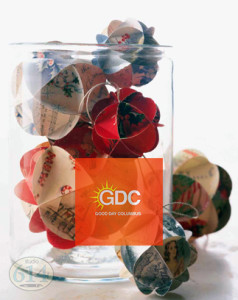 Materials Needed: Scissors, craft glue, holiday cards, glass cup or water bottle, scoring utensil (envelope opener or sharp tool)
Instructions: Begin by tracing 8 circles of the same size on your holiday cards using the glass cup or water bottle. Cut all 8 circles out. Measure an equilateral triangle inside of one of the circles and create a stencil of that triangle. Then, you will want to score a triangle inside of each circle using your sharp tool, and you will fold the flaps upwards, as pictured below.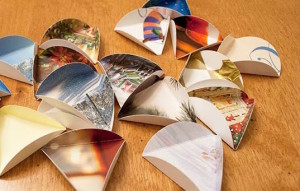 Lastly, we will pick up 2 of these and glue one flap to the other circle's flap. Continue until you have 4 circles glued together. Repeat this with 4 more circles, and then attach both finished products together at the center to create the ornament decorative ball.
Project Three: Holiday Card "Keep in Touch" Rings
Materials Needed: Hole puncher or scissors, Large key ring
Instructions: Punch a hole in the corner of your holiday cards and add them to your key ring.  Keep the Holiday Card Ring in a drawer and keep in touch with your loved ones by reaching out to someone from the ring every month! This is a wonderful keepsake to repeat each year and gain a collection of the holidays over the past years!
Thank you again online gay dating sites for such a wonderful morning!